Maryland Dairy Ice Cream Socials
The Dairy Salesroom has moved from Turner Hall to the Stamp Student Union and is now The Maryland Dairy. The Maryland Dairy continues to offer traditional flavors as well as University themed flavors such as Fear the Turtle, Final Exam Cram and flavors custom-created with many of the Terrapin coaches. Enjoy Maryland Dairy ice cream by the scoop in a cup or cone, in a Sundae, Brownie Sundae, Root Beer Float, or in a Tripple Scoop Milkshake. Ice cream is also available by the pint and in half gallon and 3 gallon tubs.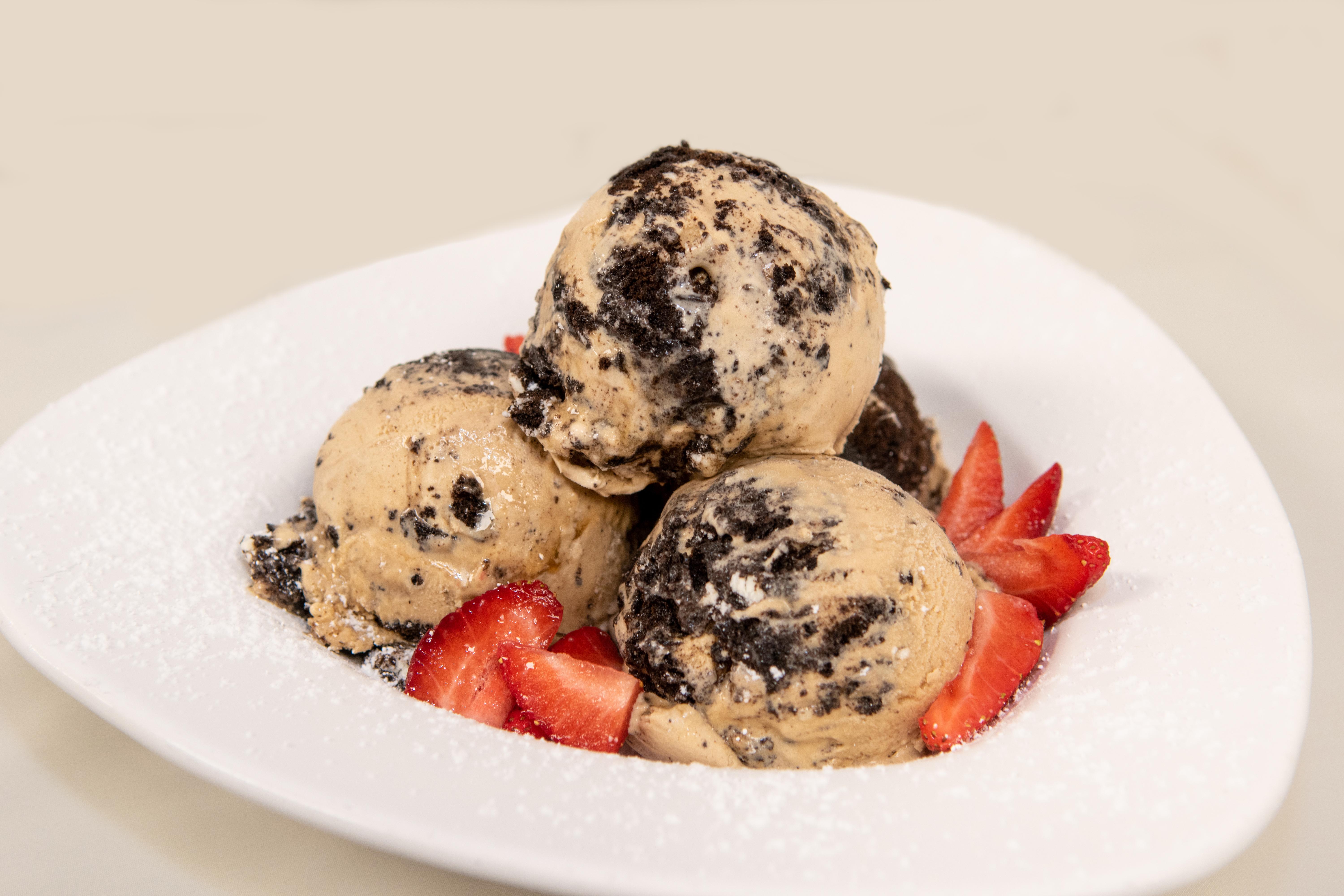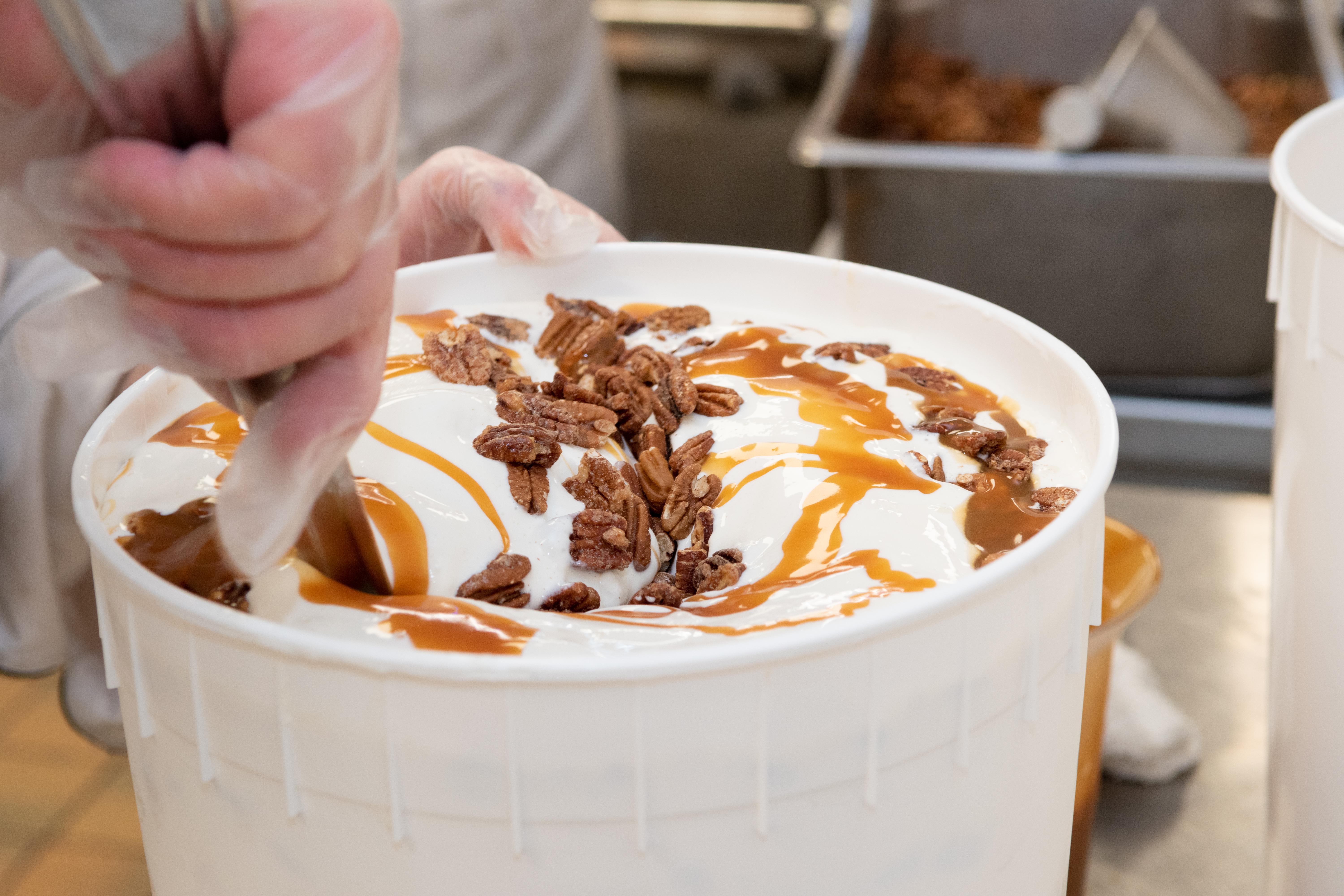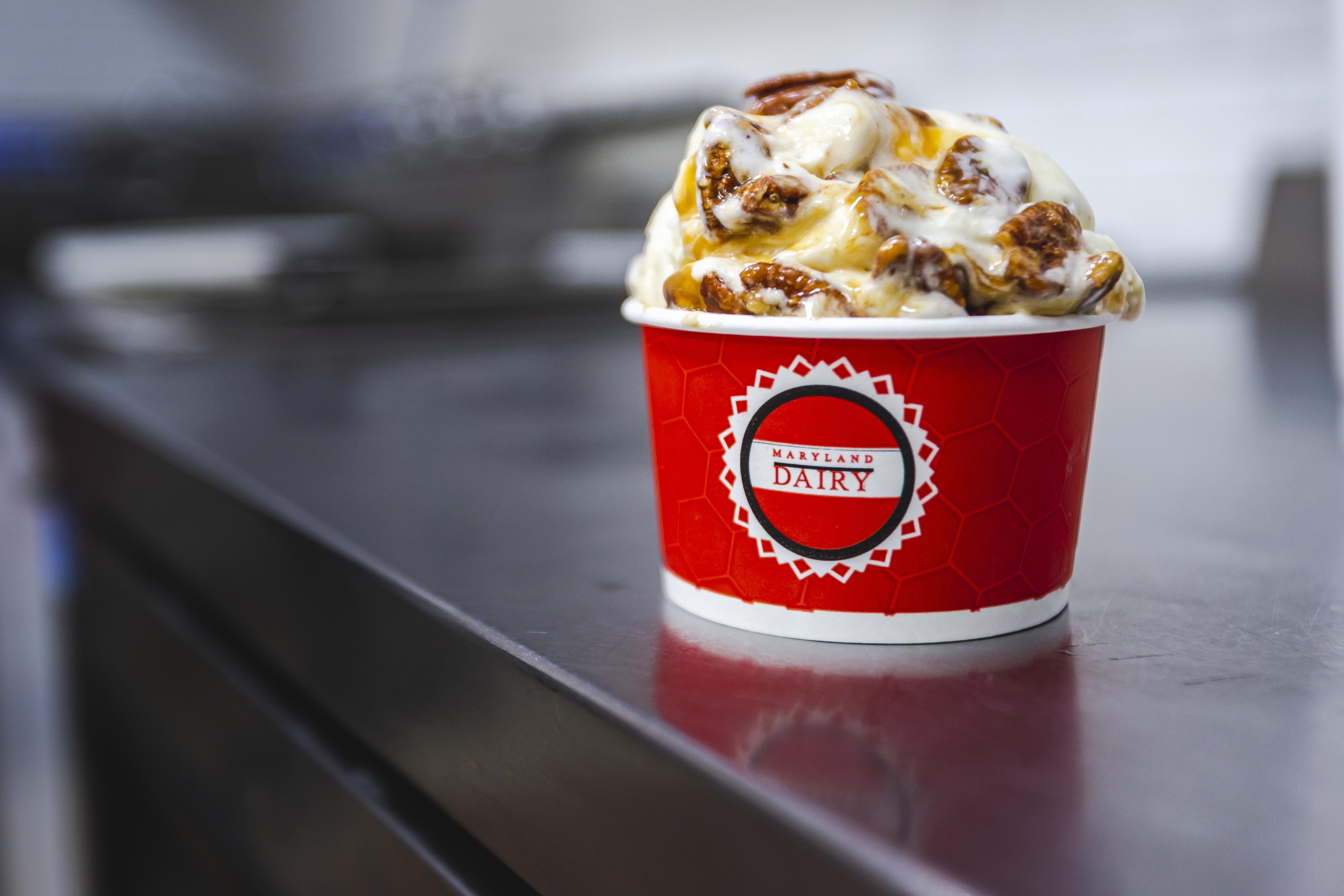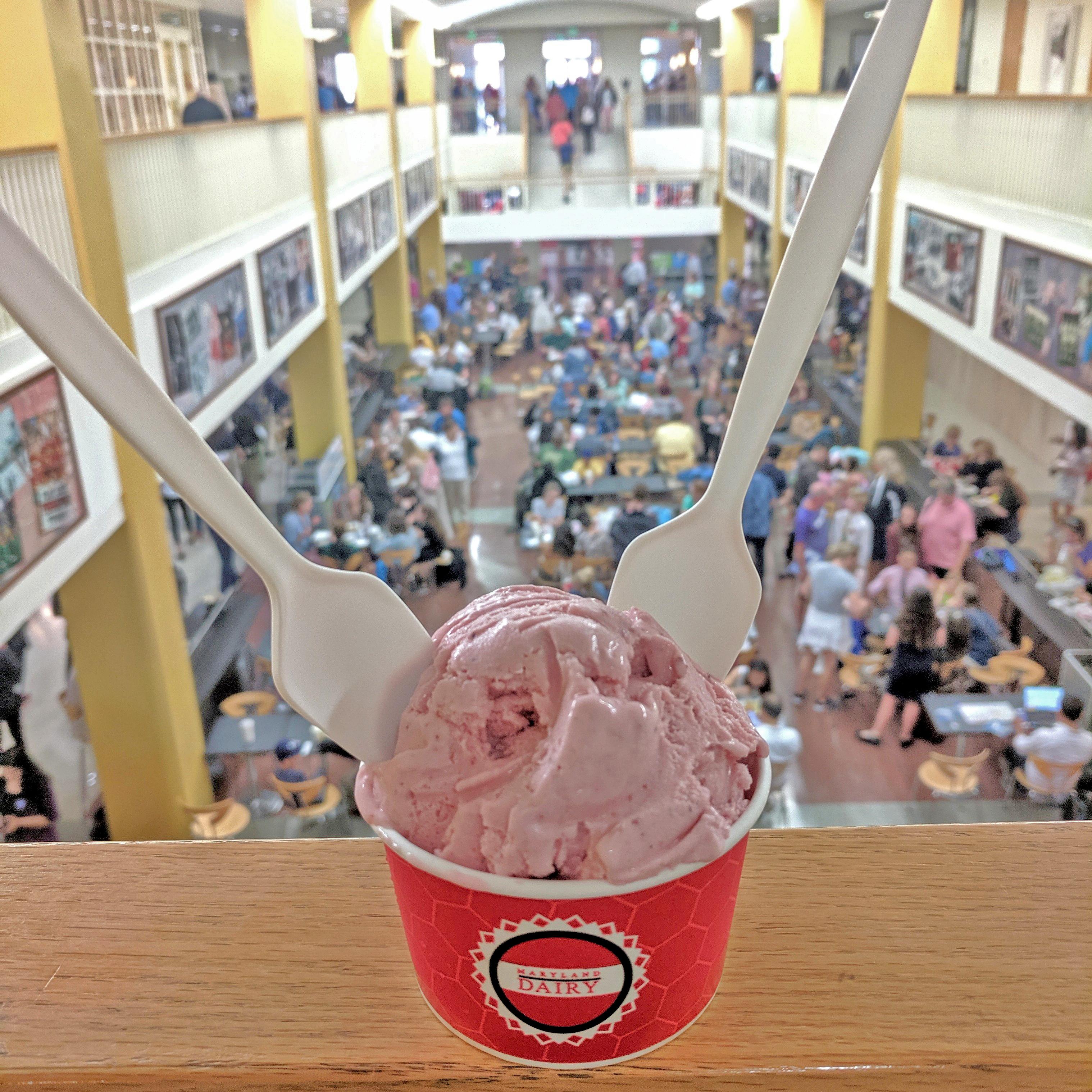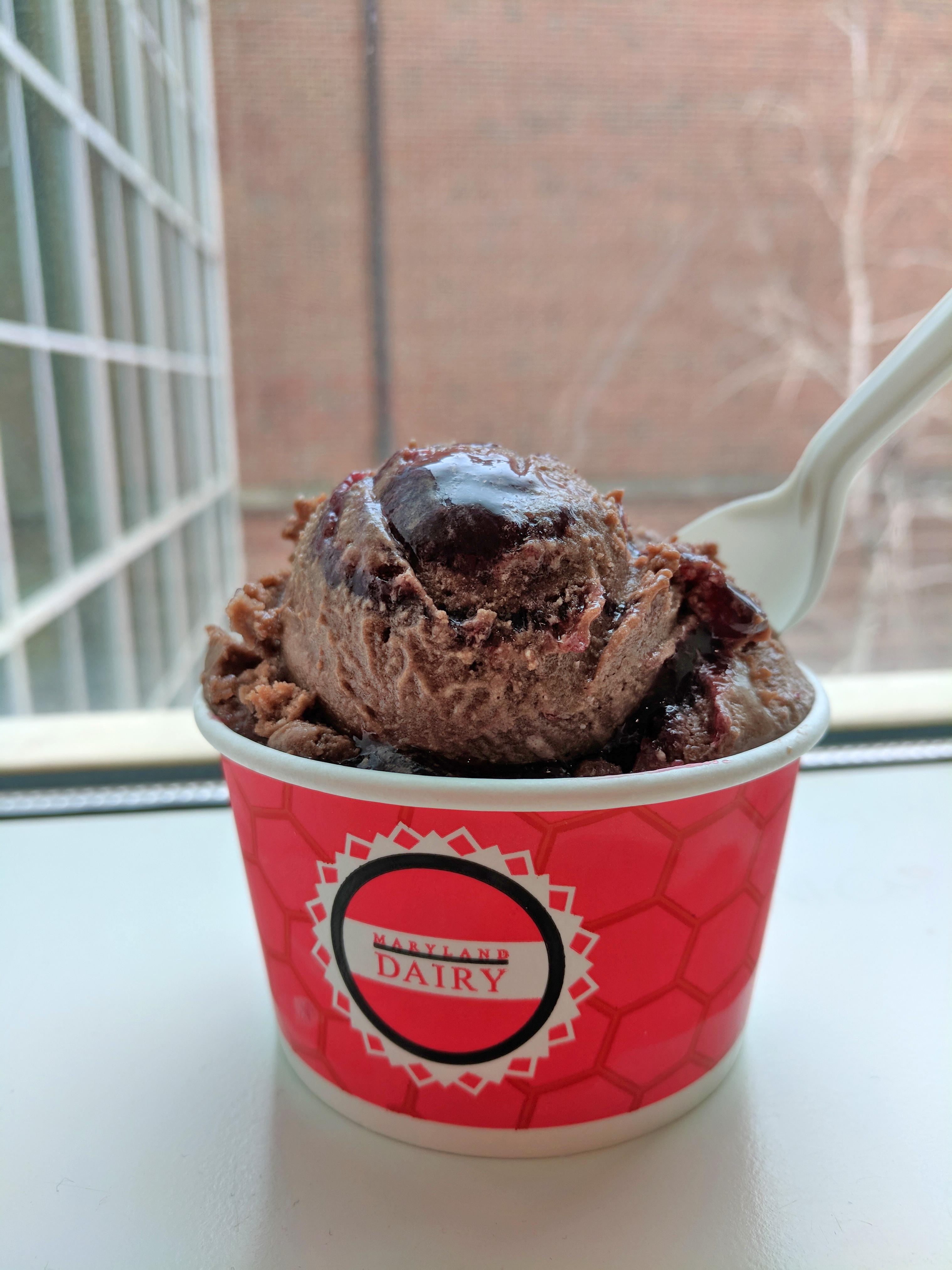 Menu
Brenda's Peanut Butter Frese – brownie batter ice cream, crushed peanut butter cups, brownie dough, chocolate liquor, and peanut butter fluff swirl
Cathy Reese's Victory Swirl – vanilla ice cream with Reese's Pieces®, Reese's Cups®, and a peanut butter marshmallow swirl
Cookies and Cream – vanilla ice cream with crumbled Oreos
Pop, #LOCKedIn, Drop It ­- vanilla ice cream with caramelized graham cracker bits and a salted caramel swirl
Fear the Turtle – vanilla cream with white chocolate truffle ribbon, salted pecans, caramel swirl, and triple sec
Lori's Legacy – double chocolate ice cream with chocolate ganache and crème de cocoa
Terpresso – double strength coffee ice cream with crushed Oreos and a caramel swirl
Rocky Road – chocolate base, salted almonds, marshmallow, heath bar, chocolate chips
Sapienza – creamy, rich vanilla bean ice cream with chocolate chips and chunks of chocolate fudge brownie, a smooth chocolate swirl and creme de cacao
Lets Tour S'more – vanilla and white chocolate base, chocolate swirl, graham cracker, marshmallow
Sasho's Crew Crunch – Dulce de leche ice cream with a chocolate cream swirl and Nestle Crunch pieces
1856 — strawberry ice cream, vanilla sponge cake, sherry and vanilla cream
Kermit's Kiss — mint ice cream with chocolate chip
Traditional Flavours
Free State Vanilla, Chocolate, Strawberry, Butter Pecan, Cherry Vanilla, Chocolate Chip, Coffee, Mint Chocolate Chip, Pistachio, Vanilla Fudge Ripple.
Get the University of Maryland Hand Crafted Ice Cream by the Scoop, in a cup, cone, or pint.
Sundaes, Banana Splits, Root Beer Floats, Hand Spun Milkshakes, Half gallons, 3 gallon tubs, Pints are also available.
Policies & Information
*Some flavors are not always available, but you'll find something equally delicious in their place!
We have half-gallons and 3-gallon tubs and toppings
Have an Ice Cream Social - Maryland Dairy will come to you!
Kosher Certified Flavours
Specific flavors of our ice cream have been certified kosher. Click here for details.
Maryland Dairy
Stamp Student Union
3972 Campus Drive
The University of Maryland
College Park, MD 20742
(301) 405-1415
SUMMER
Monday – Friday
12:00pm – 5:00pm
Saturday, Sunday
Closed
————————-
Daylight Savings Time Hours
Monday – Friday
12:00pm – 8:30pm
Saturday
12:00pm – 7:00pm
Sunday
Closed
Standard Time Hours
Monday – Friday
12:00pm – 6:30pm
Saturday
12:00pm – 5:00pm
Sunday
Closed